Acts 29 exists to plant healthy, gospel-centered churches everywhere. But each context has unique challenges and joys. Church planters may face interest, apathy, warmth, or hostility. Contextualization is crucial. The gospel of Christ Jesus doesn't change, but how we declare the unchanging Word must be understandable, at heart level, for those we seek to reach.
Three Acts 29 churches in Texas—all supported by Acts 29's new church plant funding initiative—demonstrate how different one community can be from another. As these pastors put down roots, engaging their contexts for the gospel's sake, their desire to know and love their neighbors points to the power of God's work to build his church in every kind of place.
San Angelo
The community of San Angelo is partly rural, partly suburban. Located in central Texas, it's about three hours south of Lubbock and three and a half hours west of Waco. Ryan and Kindall Owens and Brian and Kirstie Carroll replanted Redeemer San Angelo in August 2021. 
Ryan Owens explained that there aren't enough churches in San Angelo for the current population—and the community is growing. San Angelo's "long-standing history of being churched" makes gospel proclamation more challenging. "There's a nominal church culture and an emerging post-church culture," Ryan said. People conflate Christianity with politics and religious observance or, having observed conflict within churches and between the church and the surrounding culture, reject Jesus to embrace secular philosophies. "People here are very confused about what the church is and what the role of the Christian is within the church," Ryan said. Driven by Christ's mission, these Acts 29 churches are becoming a powerhouse of gospel ministry in Texas and beyond. Click To Tweet
But Redeemer San Angelo is proclaiming the gospel to the community they know and love. This Acts 29-supported church is "attempting to clarify misconceptions about the gospel, the church, and Christianity to the broader culture," said Ryan, "while pointing believers to Jesus alone." They pray that the gospel and its fruit will be the sole influence in the lives of believers, impacting their skeptical community for God's glory.
Georgetown
About three and a half hours southwest of San Angelo, Georgetown is an affluent suburb 45 minutes north of Austin. The greater Austin area of 1.9 million people rocketed into the fastest-growing large metro area between 2010 and 2020, yet, amid this booming growth, there is only one church for every 5,000 people.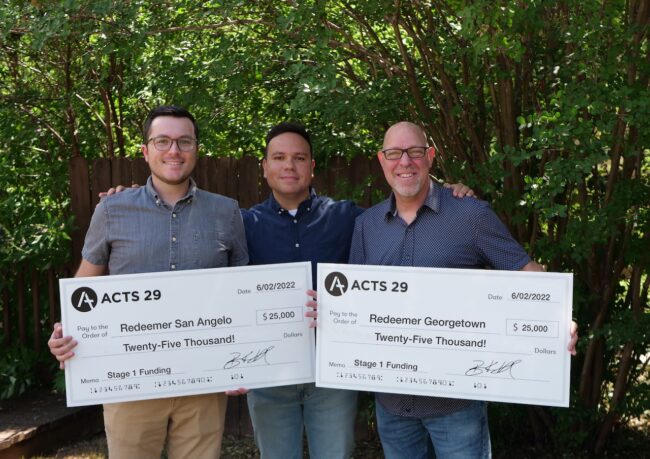 Robert and Monica Livingston previously planted The Source Church with Acts 29 in the Chicago area. After 11 years of ministry there, they felt God calling them to plant a church in Texas and settled on Georgetown. 
Before launching Redeemer Georgetown in April 2022, the Livingstons spent a year building their core team and getting to know Georgetown. The wealthy community is seemingly content in its "beehive of activity for families," Robert said, with the hurried pace creating "a facade of wholeness." But underneath, people are lonely. Georgetown is also experiencing growing pains. "With so many people moving here for tech jobs with Apple, Amazon, Dell, and Tesla, there's an influx of people overwhelming families who've lived here for generations." This historically conservative and religious town is rapidly becoming an expensive, fast-moving city.
In this context, Redeemer Georgetown seeks to be a disciple-making church family that invites neighbors into the living hope and true satisfaction only Jesus offers. They're already praying to become a church-planting church, with a view to plant five more churches in the next 20 years. This missional focus is in its DNA; Redeemer Georgetown and Redeemer San Angelo are part of the growing Redeemer Network, founded by Redeemer Lubbock, an Acts 29 church. Driven by Christ's mission, these Acts 29 churches are becoming a powerhouse of gospel ministry in Texas and beyond. 
Humble
In contrast to the upscale sophistication of Georgetown, Humble/Aldine is urban and not affluent. Located within the Houston metropolitan area, it has one of the highest crime rates in America; one in eleven people is likely to be a victim of violent or property crime. Acts 29 church planter, Deon Archer, said ministry is challenging in Humble because "most people live under a lower socioeconomic status or work blue-collar jobs with crazy schedules." Their church plant is also located in a community with the highest rate of sex trafficking in Houston.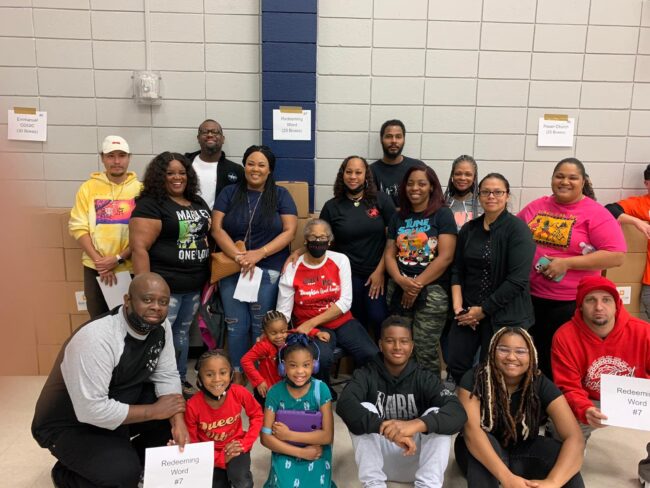 Deon Archer planted Redeeming Word Community Church in 2019. Church planting for Deon and his wife, Shiwanna, was initially solitary. "I had no team," Deon said. "I started from scratch, knocking on doors, volunteering at the school, doing a Bible study at senior living apartments, and preaching funerals." But God has powerfully worked through these efforts. From 37 people, Redeeming Word now has 62 people, with Deon training a team of eight adults for ministry. "God has been faithful," Deon said. "We've baptized 17 adults—seven within the past four months." From 37 people, Redeeming Word now has 62 people, with Deon training a team of eight adults for ministry. Click To Tweet
Many new church plants receive donations from various avenues, but the funding Redeeming Word Community Church will receive from Acts 29 will make a tangible difference in the life of this church. "We'll be able to hire a part-time person to lead worship, kids, and administration," Deon said. "This will help tremendously as the church is growing."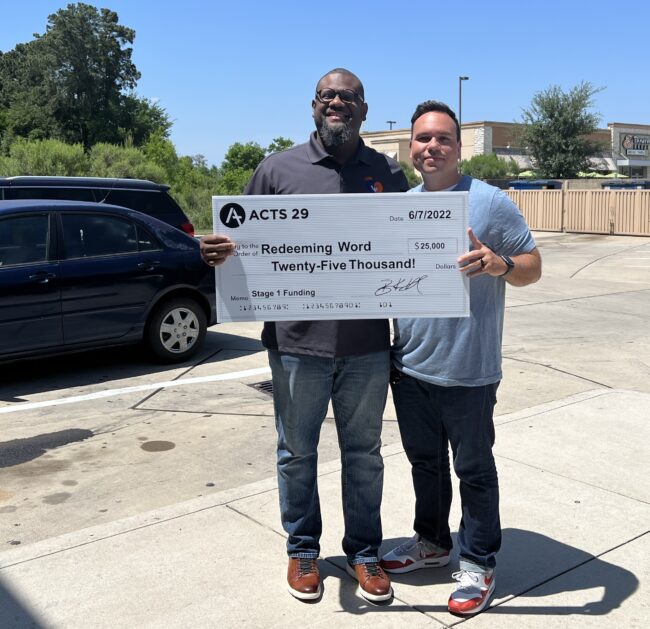 Wherever there are people, there's a need for healthy, gospel-centered churches, and this is what Acts 29 is all about. Whether a location is affluent, middle-class, or low-income—rural, suburban, or urban—local churches proclaim and demonstrate the transforming gospel of Jesus. Funding Acts 29 church planters helps advance the gospel into every context for God's great glory. 
When you give to Acts 29, you're part of the great work of planting, resourcing, and encouraging gospel-centered churches—in Texas and around the world!