Acts 29 is a diverse, global family of church planting churches. It is such a joy for us to see churches planted all around the globe and specifically for our Network in Australia & New Zealand.
This month we would like to introduce you to you Mark & Katherine from Bowral, NSW. Mark pastors The Fields Church Australia and also serves within Acts 29 as the Assessment Coordinator for Aus/NZ and on the leadership team for the Rural Collective.
Tell us about The Fields Church and your church planting journey.
In the late 2000's we were serving in our local church and were seeking direction from the Lord on how we as a family could serve Him and our community in a greater way. Around the same time, a friend of ours suggested listening to a few podcasts from a number of churches within the Acts 29 Network. As we listened and studied our word we were encouraged by this group of people from all around the globe who loved the Lord and were passionate about churches planting churches.
In 2010 I (Mark) attended an Acts 29 Bootcamp up in Queensland where I met David & Wilma Fandey. David is the Lead Pastor of The Fields Church, Carlsbad, California and at the time was the Network Director for Australia & New Zealand. The Fandey's passion for churches being planted in Australia and New Zealand was so evident. After much prayer and many conversations with both with the Fandey's and the Elder team at our church we set off to The Fields Church, Carlsbad, California to complete a 3-month internship. At the end of the 3 months  through the generosity and support of the church we returned home to Australia to plant The Fields Australia. In March 2011 we began meeting in our living room with a small core group of people on Sunday's. Over the next 10 months as we gathered the Lord grew His church and we launched publicly in a local school in January 2012. Since that first gathering in our living room our desire to see God grow people into passionate followers of Jesus Christ has never changed. We pray and desire that all will come to know Him, grow in their love and knowledge of Him and to disciple others as followers of Jesus.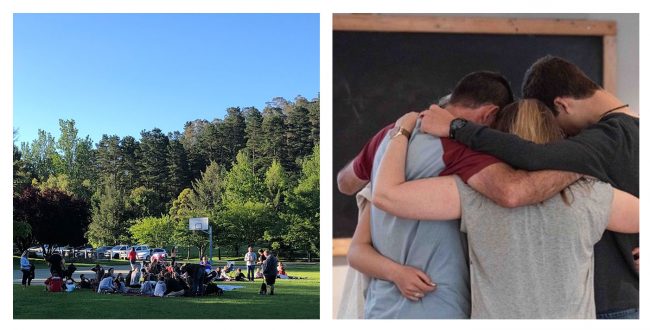 Mark, you are not just an Acts 29 member but also serve in a few roles, tell us about this.
As I mentioned above we were introduced to Acts 29 back in the last 2000's and upon meeting not just the Fandey's (Pictured below) but many others we were so encouraged and wanted to journey with like minded people who loved us and what God was doing but they loved Jesus and His church more. Over the past nearly decade these people have been a great source of accountability, mentorship & family to us. I have been involved in the Acts 29 assessment process in one form or another for quite some time and in 2016 stepped into the role as the Assessment Coordinator for Australia and New Zealand. I also serve on the leadership team of the Acts 29 Rural Collective, a collaborative with a focus on Rural Church Planting and re-planting around the world. I love that in both these roles, as well as leading a church part of Acts 29 I get to hear peoples passion to plant churches and get to be involved in some small way. Getting to know these people and see what God is doing through them and then seeing the churches that are planted reminds me that God is still at work and is calling people to Himself.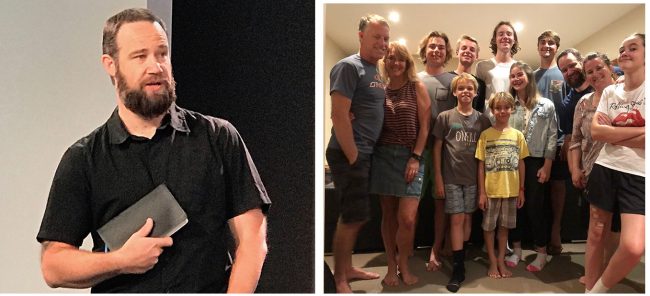 Where are you seeing God at work specifically at The Fields Church Australia.
We are constantly reminded of the power of the Gospel in not just saving people but in their growth and passion for Jesus. In seeing the redemptive work God does in peoples lives reconciling them to Him and people to one another. The way in which our youth and kids week in and week out to serve others, take ownership of their church rather than leaving it up to the older generation has been something I don't believe we would experience elsewhere. Maybe the biggest reminder of God being at work is the people who are not part of The Fields but turn to the church and its people for support and direction.
How can we be praying for your family and The Fields Church Australia.
Please pray for more people to come to know Jesus. That we don't get disheartened when we look at articles and features of other churches where people are being saved by the dozens, but pray we celebrate this and are prayerfully prepared for it ourselves. In the meantime prayer that we continue to see success as faithful obedience to God in all things, becoming more passionate followers of Jesus Christ.
Join with us in praying for The Fields Church Australia as they seek to make the gospel known throughout Bowral and NSW. If you would like to get connected to The Fields or find out more information, please visit the website or Facebook.
If you would like to learn more about the Acts 29 Assessment Process or the Rural Collective, please visit Plant A Church and Rural Collective.
Acts 29 is a diverse, global family of church-planting churches. For more information: http://www.acts29.com/plant-churches