Acts 29 is a diverse, global family of church planting churches. It is such a joy for us to see churches planted all around the globe and specifically for our Network in Australia & New Zealand.
This month we would like to introduce you to you Jimmy & Kirsty who are currently in the early stages of planting Life Centre Church (LCC) in Caloundra, Queensland. Jimmy & Kirsty took some time to speak with us about their journey thus far and what the next few months look like as they prepare to launch publicly on Easter Sunday (April 21).
Tell us about your church planting journey thus far.
Church planting was something that God bought onto our radar around 5-6 years ago. Feeling this prompting, we started going to LCC North Lakes to investigate and experience what a church plant could be like. Over the course of 4 years at LCC, we spent a lot of time with Pastor Kyllum and the leadership of the church praying and discerning where, when, and how God was leading us to plant. We went through a church planting residency, which ultimately led to us going through the Acts 29 Assessment process. From there, we established a plan to move to the Sunshine Coast and begin weekly gatherings with a small group of people. LCC North Lakes sent us at the end of 2018 with much prayer and financial support, as well as a few people to join us for the core team. We are currently getting ready to launch publicly on Easter Sunday (April 21). From there onwards we will continue to meet weekly at our Sunday gatherings but also mid-week in Life Groups all over the Sunshine Coast.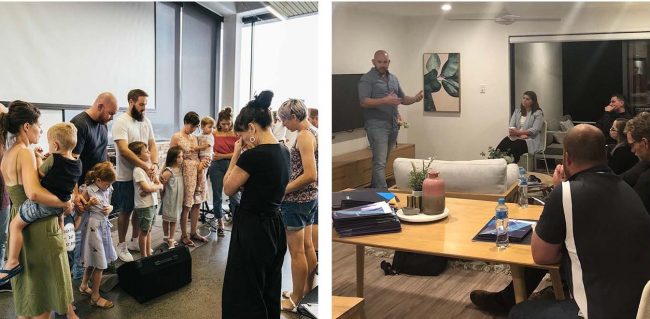 What has been one challenge that you guys have walked through as you plant a church?
The biggest struggle has been to trust God that this is His church, and He is the one who gives the growth (1 Cor 3:5-9). It can be really easy to default into stress and anxiety, and try to achieve outcomes or solve problems on our own without prayer and without God's word. So we always need to be reminded of His sovereignty, and that He will build His Church.
What drew your interest into Acts 29 initially & what made you want to become members?
There was a lot of things that we loved about Acts 29; the commitment to gospel-centrality, taking the Bible seriously, and a desire to plant church-planting churches. But what we loved most was the commitment to a thorough assessment process for its members, where the health and vitality of the relationship between the Pastor and his wife could be assessed and strengthened. This was an important factor for us going forward with ministry, and we have enjoyed the support, care, and love from our Acts 29 Australia and New Zealand family.
Where are you seeing God at work & how can we be praying for the church?
God is very clearly growing his church. He is causing great numerical and gospel growth amongst us. We have recently outgrown our house and have moved into a community centre, which is a wonderful sign of God's presence amongst us. Prayer for more salvations, a greater missional urgency amongst God's people, and for the gospel to speed ahead in the Sunshine Coast region.

Join with us in praying for LCC Caloundra as they seek to make the gospel known throughout the Sunshine Coast. If you would like to get connected to LCC or find out more information, please visit the website or facebook.
Acts 29 is a diverse, global family of church-planting churches. For more information: https://www.acts29.com/plant-churches