Acts 29 Australia & New Zealand continues to grow with churches planting churches around our part of the world!
This month we are featuring Acts 29 Australia & New Zealand members Mike & Candice who planted Gracenet Church in Wellington, New Zealand. Mike shared their church planting journey and how we can be praying with them.
"Gracenet Church New Zealand exists to behold and reflect the glory of Christ. We hold the word of God up as the highest authority and want to live out our faith, with an uncompromising obedience to Scripture. We want to see and experience authentic gospel-formed relationships, characterised by honesty and accountability. We want to experience organic community life with a strong emphasis on prayer and fellowship. We are serious about our mission and want to see the Gospel effectively communicated to our community and beyond. Moreover, in these things, we are wholeheartedly committed to the raising and training up of future leaders, along with the planting of more local churches in New Zealand.
In Nov 2004, a team was commissioned and sent out from South Africa to plant a new church in Wellington, New Zealand. By April 2005 we had moved our weekly gatherings into a public venue. While planted out as a locally autonomous church, we've always believed that we are best able to promote the cause of Christ by building relationships with other churches, networks and denominations.


My wife and I first heard about the Acts 29 Network a year into our church planting journey, we instantly felt a deep sense of resonance with the philosophy, vision and values. There were three main reasons for us pursuing membership with Acts 29. The first was our interest in joining simply so that we could stand alongside other Acts 29 churches in representing the Gospel. Secondly, we were drawn to the Acts 29 assessment process. The process is a very helpful means of identifying and equipping future leaders.  Thirdly beyond the mentoring and coaching avenues that Acts 29 provides its members, something else that drew our interest was the strong sense of relationship and fraternity among the planters (much needed in the work of church planting).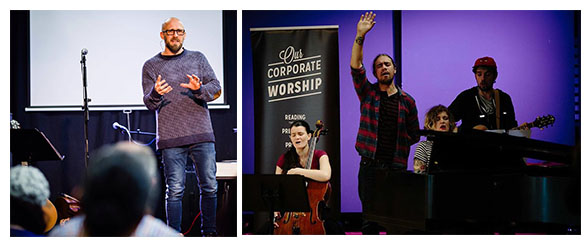 Planting Gracenet has been a long and difficult journey, but it is also a true testimony of God's grace. The members are in love with Jesus and impacted by the gospel. Every week we are struck again by the reality of God's sovereign grace in bringing Gracenet into being. None of us would love Jesus if he had not first come to rescue and resurrect us from the dead. As a church, we've had the opportunity to be involved with important elements of ministry and mission in New Zealand and abroad. In all of these things, we feel an overwhelming dependence on God's enabling grace. And truly, if any good can be said to have come from these efforts, God alone gets the glory.
God is doing so much in New Zealand. For one thing, the landscape in Wellington has changed for the better over the last 10 years; there are definitely more Gospel-preaching churches around today. This is hugely encouraging! We have seen the planting of another Acts 29 church since starting out in the network (Redeemer Church in Tauranga) and New Zealand hosted its first Acts 29 Assessment conference in November this year. Please join with us in giving thanks to God for the work He is doing through Gospel-preaching churches in New Zealand. We continue to pray as God enables us to preach the gospel consistently and faithfully that the church would indeed grow, and that it would plant out again and again as the kingdom advances in New Zealand."
Please join us in praying with Gracenet Church and the work of God in New Zealand.
If you live in the area and want to get connected please reach out to the team at Gracenet Church via their Website or Facebook.
Acts 29 is a diverse, global family of church-planting churches. For more information: https://www.acts29.com/plant-churches