The Challenge of Fundraising
If we did a survey among church planters of the most difficult issues in church planting, fundraising would rank pretty high. In Fundraising, We are not begging others to take care of us while we take this big risk called church planting. Rather, we are inviting them into a journey of faith to serve Christ with open hands and generous hearts. 
And yet, one of the main challenges with fundraising isn't that there is no funding, it's that many churches with resources don't know who to fund and those looking for funding don't know where to look.
ADDRESSING THE PROBLEM
To address this challenge, we have a Financial Connector to connect the right church planter to the right partnering church(es).
Here's how it works step-by-step:
Complete the Form:
Church Planters looking for support:
Member Churches looking to support: 
2. For the Church Planter, the Financial Connector will help you review and clarify your financial needs. For the Member Church, the Financial Connector will help you get connected with the right planter.
3. Then, the church planter's information will be given to a potential member church.
4. The Member Church will be responsible for vetting funding request and establishing a partnership.
5. The Financial Connector will then coach and encourage the planter through the fundraising journey and follow up with the Member Church as needed.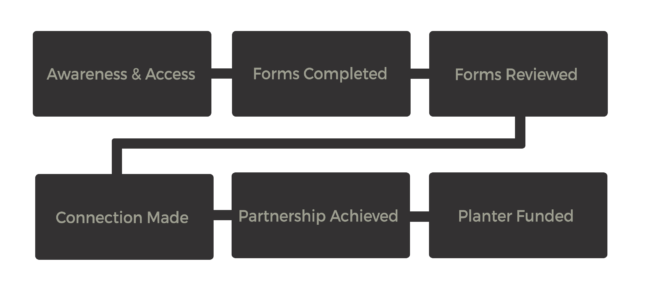 Member Churches: STEP UP TO THE CHALLENGE
Member Church, as in this process, the Financial Connector is also a resource for you. There can be a real challenge in identifying the right planters to support. If you are looking to support an assessed Acts 29 Church Planter, we want to connect you with them. Furthermore, we will help connect you to a church planter that would best fit your vision for church planting and church planters in contexts in which you seek new churches to be planted.
Again, if you are an Acts 29 US Southeast Member Church and want to invest in this opportunity to financially partner with Church Planters, fill out this form.
You can find out more about ways to begin a partnership by contacting the Acts 29 US Southeast Financial Connector, Stephen Roberts at stephen.roberts@acts29.com.