The missional partnership between Eternal City Church in Wilkinsburg, Pennsylvania, and University Community Church (UCC) in Gulu, Uganda, happened providentially. In 2017, an Eternal City congregation member visited UCC and made some connections—the partnership blossomed from there. Pastor Jimmy Okello of UCC called this happenstance meeting an "act of God." 
When Chris Moran, lead pastor at Eternal City, first decided to enter into a partnership with UCC, he couldn't have anticipated the impact this would have. One of Eternal City's members went to Gulu and spent a month with Jimmy, his family, and the UCC congregation. They wanted to ensure this partnership would work and steward everyone's time and resources wisely. It soon became clear that Eternal City and UCC had a unique opportunity to support one another and work together to advance the gospel. 
The Value of Church Partnerships  
By 2017, Jimmy Okello had been seeking a missional partnership for years. He'd been the lead pastor at UCC in Gulu since 2014 and longed for theological training, accountability, and a network of support. Eternal City partnered with Jimmy to provide these things, as well as financial support, and introduced them to Acts 29. After a lengthy assessment process, UCC is now one of the only Acts 29 partner churches in the Gulu region.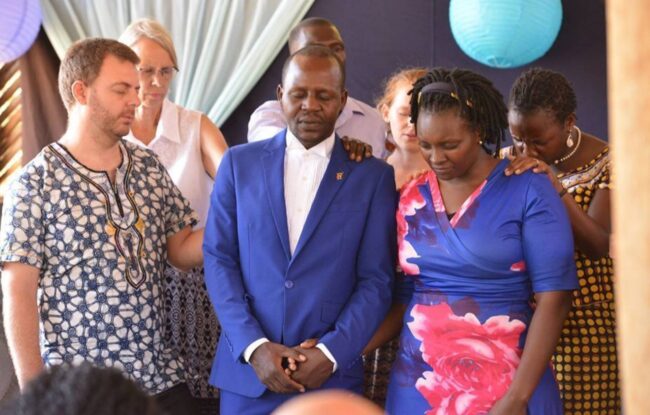 Jimmy describes his partnership with Chris and Eternal City as a blessing. His church has seen substantial growth, too. They've transitioned leadership to a plurality of elders, encouraged theological maturity for their congregation, and now have a formal membership process. Jimmy said it isn't common for churches in Gulu to emphasize church membership and discipleship, but because their church values it, they're known in the community for gospel centrality. 
Acts 29 knows there is immense value in global church partnerships. When partnering with another church, you're not just sending financial support and checking in every quarter. It's a long-term, gospel-advancing work. A work that Eternal City and UCC model well. Jimmy testified to this, saying, "By and large, our church is more effective now in sharing the gospel and making disciples as compared to the time before our partnership with Eternal City and Acts 29." 
Shepherd the Flock Conference 
In 2021, Eternal City and UCC held their first Shepherd the Flock conference in Gulu. This is a training-focused conference equipping pastors and ministry leaders in the area. It has become an annual event for them, as they've trained over 100 pastors in the Gulu region. For the participants who long for additional training and support, this conference offers an on-ramp for Acts 29's apprenticeship. These men are learning how to effectively communicate the gospel, and they're also offered tangible help and training along the way.
There's a deficit of resources available in Gulu, so another important part of this event is giving participants theological books for free. Not only do conference participants hear solid, biblical teaching, but they also take resources home with them to further advance their ministries. With the help of sponsors, Eternal City has given away over 2,000 books and resources. They hope to continue this for years to come. 
Gospel Impact in Gulu and Beyond
UCC is very close to the local university, and many in their congregation are students. This is a great opportunity but often challenging because it naturally creates a transient community. They know that many will be part of their church for a short time until they graduate and move on. It's bittersweet, but Jimmy sees it as a gospel opportunity: "When they leave, we're commissioning them to make disciples wherever they may go." Many students are at pivotal points in their lives, making decisions that impact their families and future careers. UCC seeks to come alongside them and share how the gospel makes all the difference in their lives—today and tomorrow.When partnering with another church, you're not just sending financial support and checking in every quarter. It's a long-term, gospel-advancing work. Click To Tweet
A student named Gabriel moved to the area for university and decided to visit UCC. He was raised Catholic and had some understanding of God but was a stranger to the gospel. Something about UCC drew him in, and he continued to come each week to learn. When they preached through the book of John, Gabriel heard and believed the gospel for the first time! Jimmy had the joy of baptizing Gabriel and welcoming him into membership at UCC. They've seen many similar stories—watching the Spirit turn people's curiosity into conversion. 
Eternal City took the time to get to know Jimmy and his family and fully invested in their long-term success. They recently helped UCC purchase land near their current meeting space, and they're working on a new building project. This will provide a permanent gathering place for UCC and serve the community of Gulu for years to come. When asked about the impact of this partnership, Jimmy said, "We are thankful to Eternal City and Acts 29 for their diligence and patience. It took us five years to finish our assessment, and they walked with us every step of the way." The kingdom of Christ is advancing in Pennsylvania, Gulu, and around the world through gospel partnerships.